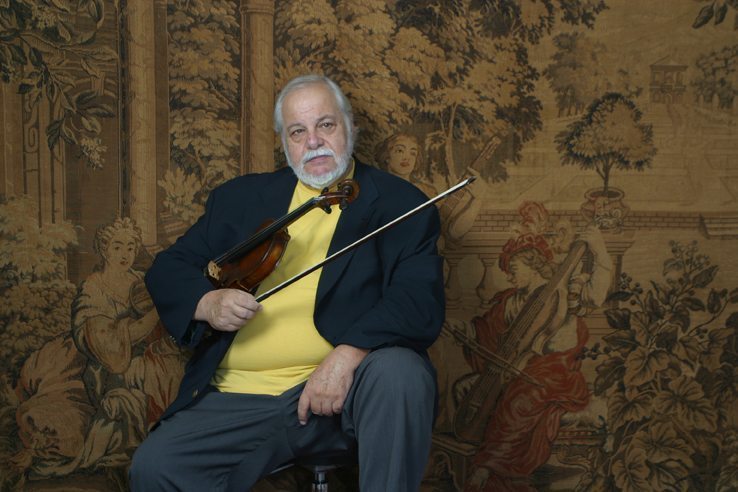 Revista Viernes

Federico Britos, Oriente e Yvonne Brown, en el Olympia
JESÚS VEGA
ESPECIAL/EL NUEVO HERALD
El histórico Olympia Theather del Gusman Center es conocido por ser sede de importantes eventos musicales. Y el que se llevará a cabo hoy viernes continúa esa tradición de experiencias culturales únicas. Se trata del tercer concierto de la serie DWNTWN Concerts, presentada por la Miami Jazz Society, en el que participarán el violinista Federico Britos, la agrupación Oriente y la cantante Yvonne Brown. Una presentación con entrada gratuita para el público en general.
La noche comenzará con el venerable Federico Britos, violinista y compositor que transita por las sendas del jazz, el bossa nova y la música clásica con igual maestría y pasión insuperables. A lo largo de su extensa carrera, Britos ha trabajado con míticas figuras como Dizzy Gillespie, Duke Ellington, Nat King Cole, Woody Herman y Benny Goodman, y grandes de la música latinoamericana como Astor Piazzolla, João Gilberto, Vinicius de Moraes, Dorival Caymmi, Bola de Nieve, Enrique Jorrín, Bebo Valdés (con quien realizó Beautiful Music, uno de los discos más emotivos y perfectos del jazz actual), Israel "Cachao" López y Paquito D'Rivera, entre otros.
Lo seguirá Oriente, agrupación formada en 1994 por el maestro Eddy Balzola, guitarrista y compositor de origen cubano, quien, luego de colaborar con varios grupos, canalizó su energía en un proyecto propio que lleva el nombre de la región oriental de Cuba, cuna de grandes tradiciones musicales. Oriente fusiona las raíces afrocubanas con el blues, el jazz e influencias brasileñas, con un sonido propio e inimitable generado por los maestros Eddy Balzola (guitarra, voz y arreglos musicales), Yoel Del Sol (percusión múltiple y voz), Dony Félix (bajo eléctrico), Stuart King (trompeta, fliscorno y percusión), William Paredes (trombón, percusión, voz) y Orlando Machado (percusión, voz).
Para Balzola, la presentación de esta noche constituye una oportunidad sin precedentes. "El Gusman es un lugar bello, histórico, y con muy buena acústica. Allí he podido ver y oír leyendas como Sonny Rollins, Dizzy Gillespie, Mongo Santamaría y Stephane Grappelli. Me alegra trabajar con Keith Clarke, director de la Miami Jazz Society, que continúa promoviendo el jazz y otros géneros musicales creativos en una ciudad obsesionada con los DJs", afirma el músico, quien revela que Oriente interpretará "mucho repertorio nuevo que será próximamente un CD en vivo".
Finalmente, cerrará el concierto la cantante Yvonne Brown, acompañada por el Trío Gary Thomas, integrado por Richard Banks (piano), Gary Thomas (bajo), Mike Piolet (percusión) y Pat Seymour (saxofón). En 1992, conjuntamente con el talentoso músico Jon Frangipane, Brown recreó las canciones que Billie Holiday interpretó entre 1930 y 1935, etapa considerada como la cumbre de su carrera, en un espectáculo a sala llena en el Riverside Hotel de Fort Lauderdale, patrocinado por Gold Coast Jazz Society. Uno de innumerables éxitos de una vocalista que ha trabajado con solistas y agrupaciones como Ray Charles, Dionne Warwick, Stevie Wonder, Diana Ross, Phyllis Hyman, Duke Ellington, Sarah Vaughan y Bill Cosby. "Una cantante especial que se ha dedicado al R&B y el rock and roll gran parte de su vida. Ya es hora de que el mundo escuche sus mejores canciones", asegura Keith Clarke.
Esta noche, el Olympia Theater estará de fiesta con Federico Britos, Oriente e Yvonne Brown. Tres instituciones del jazz en función única y generosamente gratuita. Tres estilos y aproximaciones al género que el público no se puede perder.
"Yvonne es una cantante especial, que no entiendo cómo no tiene fama mundial. Por su parte, Britos resume 'las 3 V': virtuoso, versátil y un verdadero caballero", concluye Balzola.•
'Federico Britos, Oriente, Yvonne Brown', hoy viernes, 8 p.m. Entrada gratis. Olympia Teather at the Gusman Center for the Performing Arts, 174 E Flagler St., Miami. Teléfono: (305) 374-2444 .