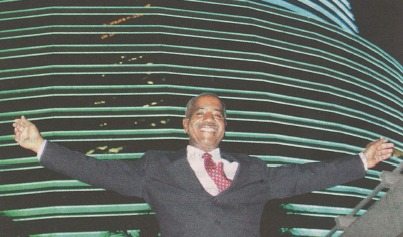 Keith Clarke Featured in Sun Post
By DowntownMiami.com | Published: October 14 2012
Downtowner and Founder of The Miami Jazz Society Keith Clarke makes the cover of Sun Post
Keith Clarke with the Miami Tower in the background
                                                                                     –Sun Post
Congratulations to Sun Post! for covering Downtown Miami's Keith Clarke. Contributing writer Ms. Skinner brilliantly captures the passion that fuels Keith Clarke to bring authentic jazz and classic films to Downtown Miami.
Read Full Cover Story click here
SunPost! Every Tuesday night. A double feature. Buffet appetizers and cash bar. Admission: free.
The Miami Jazz Society's Downtown Film Series is a little-known secret hosted by Keith Clarke, a jazz aficionado with an eclectic affinity for the cinema. His films flicker on the projection screen in the 19th Floor auditorium of downtown's Miami Tower. (For easier reference, it's that tower that gets lit up in color every night.)
Last week, he showed two Coen brothers' films, including their 2007 flick, No Country for Old Men.
The week before, the theme was chocolate (Chocolat; Like Water for Chocolate). Literally. The buffet dessert fare, in keeping with the night's on-screen theme, was… well… I'll spare you all the delectably decadent details. (It was all delish.)
The Society's Downtown Jazz Series presents jazz ensembles and vocalists headlining at free soirées at downtown lounges (Sky Lounge at Miami Tower, Kyma Lounge at the Epic Hotel, Indigo Bar at the InterContinental Miami). Check out Keith's upcoming musical and cinematic schedule both here in the SunPost and at his site miamijazzsociety.com.
Many Tuesday evenings (when a certain columnist should be home meeting deadline, shame on him) will find me downtown at the Tower. Join us, won't you? There's plenty of food and seats for more.
— Charles Branham-Bailey,
in The Miami SunPost, Oct. 27, 2011