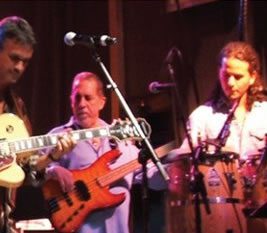 Formed in 1993 by Cuban-born guitarist/composer Eddy Balzola. Oriente's sound features funky, guitar driven tumbaos. brass, and Afro-percussion – fusing Cuban roots with Blues. Jazz, Caribbean and Brazilian influences
The band began their first tour m 1994 at famed New Orleans Jazz club 'Snug Harbor" where their sizzling, rhythmic and melodic Afro-Cuban sounds created a buzz among the best musicians in town along with audiences used to cutting edge music performances ala New Orleans.
Oriente continues to record and perform creative original music with fresh arrangements and exciting stage presence.