When:
February 23, 2023 – February 26, 2023
all-day
2023-02-23T00:00:00-05:00
2023-02-27T00:00:00-05:00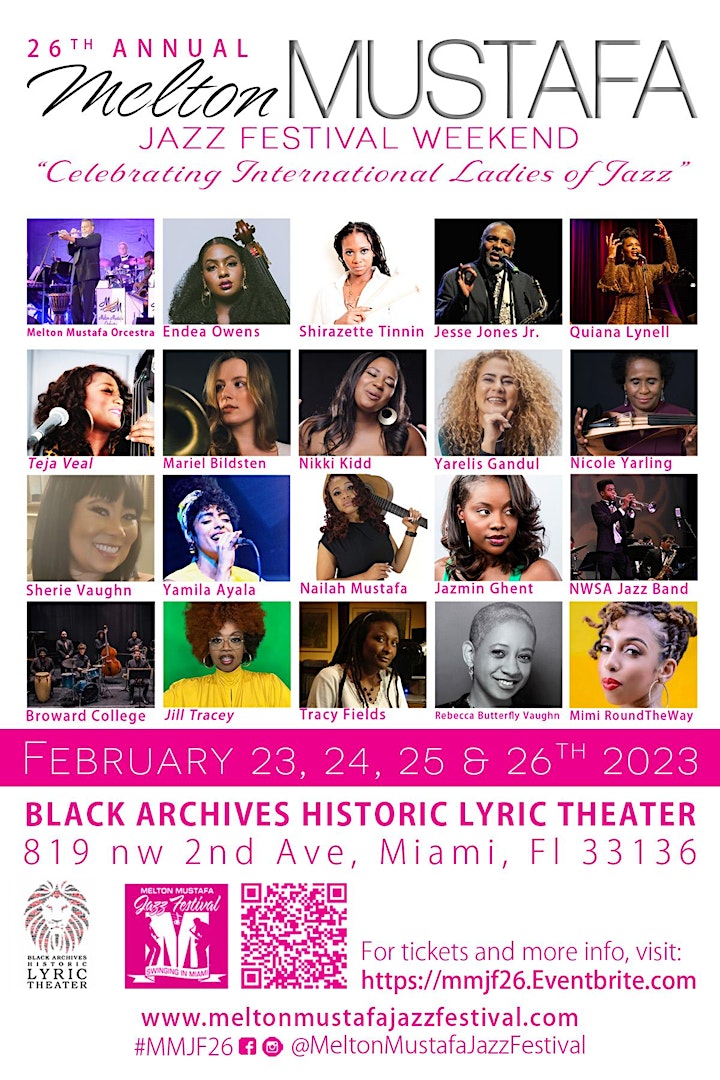 The Melton Mustafa Jazz Festival was founded 1996 by International Jazz Trumpet Legend and Miami Native Melton Mustafa Sr. The MMJF is now considered a staple in the community and celebrates 26 years of pure Jazz. This years jazz festival is dedicated to the all of the amazing Women Jazz Artist, the late Zakiyyah Mustafa and late Melton Mustafa Sr. We thank you for your dedication to the preservation of Jazz Music. This festival is a performance platform for local artists, international artists, students, educators, local businesses and the community. The MMJF26 welcomes all Jazz lovers regardless of their age, background, gender, social economic status, sexual preference, disability or education. Let's Jazz together!!!
Mustafa Jr.
MMJF26 Artists Lineup: Endea Owens, Mariel Bildsten, Shirazette Tinnin, Teja Veal, Jazmin Ghent, Nicole Yarling, Quiana Lynell, The Real Tracy Fields, Radio Personality Jill Tracey, Nicole Kidd, Yarelis Gandul, Sherie Vaughn, Rebecca "Butterfly" Vaughn, Nailah Mustafa, Michele Bazin, Broward College Jazz Band directed by Waldron Dunkley featuring Yamila Ayala, Florida's favorite entertainer Jesse Jones Jr., Vocalist Lenard Rutledge, Yamin Mustafa, James Cotman, Jim Gasior, The Legendary Melton Mustafa Orchestra, New World School of the Arts Jazz Band, and many more…